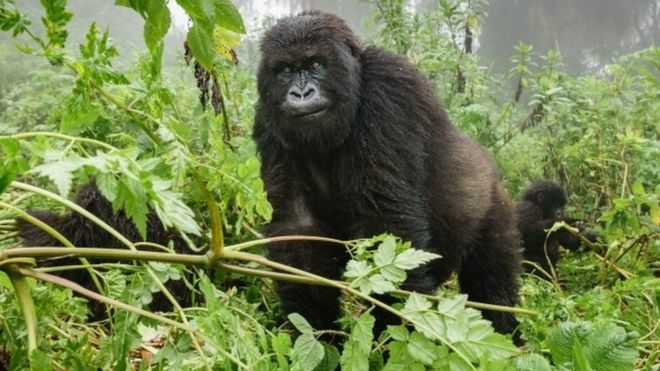 The whole world has a total of almost 1000 mountain gorillas resided in only three countries; Uganda, Democratic Republic of Congo, and Rwanda. The mountain gorilla safaris in Democratic Republic of Congo takes place only in Virunga National Park, well as gorilla trekking in Rwanda takes places in Volcanoes National Park, and gorilla trekking in Uganda takes place in Bwindi impenetrable forests national park and Mgahinga Gorilla National Park. However, Democratic Republic of Congo also has another gorilla type (eastern lowland gorillas) which can be trekked from the nearby Kahuzi-Biega National Park, in eastern parts of the country.
The tracking of these endangered primates is very cheap in Democratic Republic of Congo, as the Congo gorilla permit costs only US$ 400. A gorilla permit is very expensive in Rwanda as it costs US$ 1500, well as Uganda's permit costs US$ 600, all making the Congo permit the most affordable one. Gorilla trekking is at times a challenging activity but it is doable and the experience achieved from the one hour you will spend, interact, with the gorillas is of a lifetime which you will share with your friends, family, and work-mates as you return back home.
Gorilla trekking is such an interesting activity that one should try doing, as you will enjoy the amazing behaviors of these great apes. The activity can be done and enjoyed all year round though the most recommendable time to visit Democratic Republic of Congo for the gorilla trekking activity is during the dry months.
December to February and June to September:
The above months are definitely the most ideal ones for gorilla trekking, as mostly the weather is warm with less rainfall, and the trails in the rain forests are dry hence making it easier for those trekking on foot through the forests searching for gorillas.
However, the dry months mentioned above are busy, so travelers are highly emphasized to book their gorilla permits 3 months in advance depending on the itinerary in order to avoid inconveniences. Getting the best choice of accommodation will also be tricky because it is a peak season, therefore plan your itinerary ahead of time for the best of your safari.
April to May and October to November:
The above months are considered to be a rainy season and by that time, gorilla trekking will be disturbing since rain forest ground is wet, trails are slipper and hiking steep slopes can be difficult especially in Virunga National Park.
However, that does not affect gorilla trekking as it can still be done during the rainy season, and there are some advantages too and tourists are guaranteed the same experience. It is a low season, and the parks are not too busy so it will be easier to get first choice of accommodation even at last minute booking is possible.
Due to rainfall, vegetation is green hence best for birding safari and photography of landscapes. The other advantage for traveling in this low season is that most of the things such as; gorilla permits, accommodations and others tend to be at lower prices.
A Congo gorilla permit in the low season is sold at US$ 200 and the accommodations lower their rates in order to attract travelers. However, generally gorillas can be tracked at any time of the year and transportation should be by use of 4 Wheel Drive Vehicles and pack appropriately.