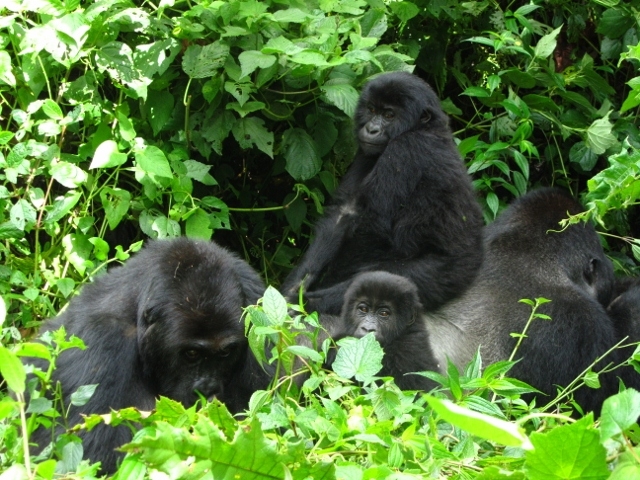 Everyone talks about mountain gorilla in Virunga National Park, Bwindi Forest and Volcanoes National Park, but Lowland gorillas are even more imposing, huge animals that are used to people and you can observe them from one meter. Despite the years of turmoil, Kahuzi Biega remains the only place in the world where visitors can track the endangered eastern lowland gorillas in the wild. Given that the DRC does not have a lot of tourism like other neighbouring countries, this might be the cheapest gorilla visit you will find at $400 per person.
About 30km northwest of Bukavu lies the 6,000km Kahuzi Biega National Park, a UNESCO World Heritage Site named for the two extinct volcanoes that dominate the skyline, Mount Kahuzi and Mount Biega. The park was gazetted by the Congolese government in 1970 to conserve the Grauer's gorilla, the world largest gorilla species.
The park contains a flora and fauna of exceptional diversity, making it one of the most important sites in the Rift Albertine Valley, it is also one of the ecologically richest regions of Africa and worldwide. The park contains 136 species of mammals, among which the star is the eastern lowland gorilla and 13 other primates including threatened species such as the chimpanzee and Colobus, as well as forest elephants, leopards, civets, genets, otters and many antelopes and duiker.
Getting there
Kahuzi Biega National Park is an impractical destination unless you have your own transport. Visitors without their own vehicles can organize one with gorilla safaris tours to Kahuzi Biega National Park. Bukavu is relatively calm and peace has prevailed in this area, a combination of historical, natural, cultural and man-made resources make a visit to this place to this paradise on earth an awesome memorable experience. The beautiful drive from Bukavu to the park skirts Lake Kivu and then enters highlands tea plantations and is a good way to get a feel for rural life.
Activities
Lowland Gorilla tracking
The biggest draw for visitors to Kahuzi Biega is the world's biggest primate, the eastern lowland gorilla. Tracking to see the Eastern Lowland gorillas in Kahuzi Biega National Park in Southern Kivu province is a thrilling perfect experience to do, unlike when trekking mountain gorillas in Bwindi Impenetrable Forest and Volcanoes National Parks.
When you choose to do a safari in Kahuzi Biega National Park, by picture you will realize how this animal is really amazing and has its unique look and family nature with mountain gorillas. Getting to see them can be challenging, it involves hiking in the tropical rain forest and following different trails, depending on where the family sent their previous night, but struggling through the dense forest is part of adventure and gives you a feeling that you did not get gorillas for free.
But once you locate these gentle giants, you are strictly going to spend an hour interacting with gorillas after reaching them, the encounter itself is beyond description, and truly a once in a lifetime experience to be so close to these gentle giants and have a chance to see them interact with their environment and each other in ways that are both humorous and tender and to witness behaviours that are so very human.
Other activities on offer at the park include;
Volcano hiking
There are two inactive volcanic mountains within the heart of the national park which trekkers participate in hiking. Mount Kahuzi, which is done in a thigh-burning full-day round-trip hike setting out from the Tshivanga visitor's centre no later than 09:00. It is about 4 hours up and 3 hours to get back down, through lush montane forest which opens up to a stunning panorama of the park.
The summit of Mount Bugulumiza 2400m is easily accessible via a 6 km trail from Tshivanga Visitor Centre and takes about 3 hours round-trip. The summit offers great views of Mounts Kahuzi & Biega along with the surrounding forest landscape.
The summit of Mount Biega 2790m is a 6-hour round-trip hike from the main road. The vegetation is significantly different from that found on Mount Kahuzi. The park is currently working to clear a trail to the summit that was hoped to open back in 2013.
Birding
Being home to approx. 349 bird species 42 of that are endemic to the national park, Kahuzi Biega is a paradise for great lovers of birds. Among the birds spotted include African green broad bill, yellow crested helmet-shrike, Congo peafowl and Rockefeller's and many others.
Nature walks
Nature walks are also offered which lead to different sites such as the Tshibati waterfalls trails to three waterfalls in the national park. Experienced guides lead travelers and help in spotting different vegetation types and wildlife in the national park. Sweet sounds of birds singing up in the trees are heard by the travelers and of course fresh air which freshens the minds of traveler.
Tshibati waterfalls trail
The hike starts with a short trip through farms and fields before crossing into the park for another bushwhacking hour. This trail follows a well-defined and demarcated foot path that runs very close and adjacent to the 2 rivers and passes 3 waterfalls, therefore proving a better, clear and spectacular view of the water falls. This path is made up of various steps that one strolls on his way to and from the waterfalls.
Idjwi Island
This is a unique and unexplored tourist attraction. Idjwi Island is the second largest inland island in Africa. It is located within Lake Kivu and can see clearly from both the Rwandan and Congolese mainland. The visit to island offers opportunity to explore one of the many pineapple plantations and picking some, nature walk to the village, swimming in the lake, bird watching and interacting with the local community including the fishermen.
Lwiro Rehabilitation Centre
Lwiro rehabilitation centre cares for primates that have been orphaned by illegal hunting and the bush meat trade. They have 55 chimpanzees and 73 monkeys from ten different species, including the inimitable owl-faced guenon in their care, and the large, well-kept enclosures and visibly dedicated staff of 30 would be praiseworthy in any location.