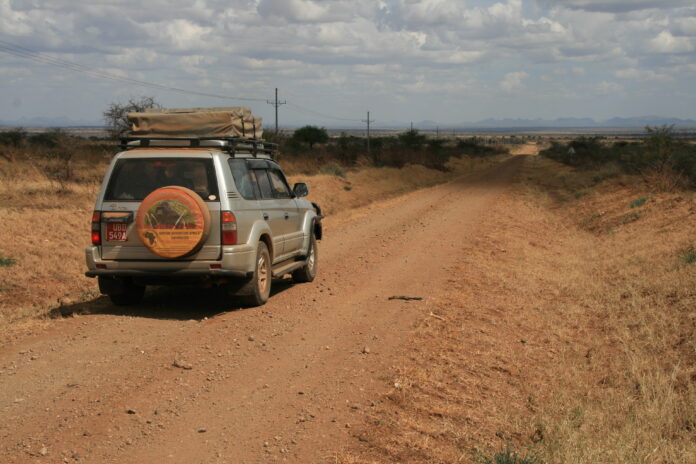 Uganda's premier Nile River destination in Jinja. Couples can go white-water rafting, kayaking, hiking, and bungee jumping, in addition to enjoying a lively party scene. Though Jinja possesses a bit of a back packer vibe, honeymooners will find solace on the scenic river, taking in some of the region's most spectacular sunsets over the Nile and always requires to have enough time with your 4×4 rooftop tent car and camping gears.
Lake Kivu, shared between Rwanda and the Democratic Republic of Congo and located just an hour away from Musanze, Rwanda, is known for its gorgeous weekend trips, lush countryside, calm lakeside retreats, and a myriad of lakeside activities. Spend a few nights in Gisenyi or Kibuye, two of Rwanda's largest lakeside towns – both of them are perfect for a romantic getaway.
Zanzibar, an archipelago just off the coast of Tanzania, is one of the world's most serene getaways. Turquoise waters and white-sand beaches surround the island, with central Stone Town operating as Zanzibar's capital. Be sure to visit Nungwi, Page, Michamvi, Jambiani, and Kendwa, Zanzibar's best beaches. Before heading off to the scenic beaches, though, do spend some time wandering the narrow and colourful streets of Stone Town, making sure to indulge in the city's best restaurants and peeking into storefronts.
Maasai Mara is known for its unbelievable vistas and animal encounters. Some of Kenya's best luxury lodges are located within the park itself, offering stunning views, privacy, and a whole lot of room for romance. Take up a morning hot air balloon as a couple up in the sky having great views of the park as well as a romantic breakfast.
Rwanda's twin lakes are quickly becoming known as one of the most serene spots in the country. Lake Burera and Lake Ruhondo, dotted with small islands and fish eagles, boasts crystal-clear water and rolling hills with countless rows of terraced farming. The lakes have options for both the budget and upmarket traveler; check out the campsite on Ile de Cyuza and Volcanoes safari's luxurious Virunga Lodge.
Mafia Island, just a 20-minute flight from Dar es Salaam, is Zanzibar's cooler and less touristy younger sister, offering some of the region's best scuba diving. Travelers can stay on beachfront property and dive the day away, as well as snorkel with whale sharks and adventure around the island on boats.
Nairobi, East Africa's most buzzing city, boasts culinary options galore, enviable arts and music scene, and plenty of high-end shopping. Though a lot of tourists skip the city and head straight to safari or the coast, make sure to spend a few days enjoying the Nairobi scene. If a safari in the Maasai Mara or Lake Naivasha isn't on the cards, look into feeding giraffes at Giraffe Manor and cavorting with elephants at the David Sheldrick Foundation.
Lake Bunyonyi in Uganda; Located in Uganda, right near the border of Rwanda, Lake Bunyonyi is best characterized by its layered hills, misty mornings, and colourful sunsets. Several islands on the lake have campsites and lodges, where you can spend your time on dug-out canoe trips, hikes, and casual Scrabble games on the porch. Spend some time exploring the area, perhaps visiting Queen Elizabeth National Park for a safari, or Bwindi Impenetrable National Park for some gorilla trekking.
Therefore, self-drive with rooftop tent to Musanze in Rwanda; Home to the country's famous endangered mountain gorillas, Rwanda's Musanze district is full of lush bamboo forests, luxury lodges, and volcanic views. Visitors to the region sign up for gorilla trekking months in advance, as permits are expensive and often hard to come by, but it is so worth it for the chance to watch gorillas in their natural habitat. For accommodation, book a stay at the ultra-exclusive and eco-friendly Bisate Lodge, enjoying their romantic villas and panoramic views. For a more budget-friendly destination, check out Bwindi Impenetrable Forest in Uganda for gorilla trekking.
Lamu, an island on Kenya's Swahili coast, shines with old-school charm, Arabic-influenced architecture, and idyllic beaches. Expansive resorts and luxurious town houses dot the coast, and honeymooners can spend their days exploring the town by foot, relaxing on the beach, and eating the freshest of seafood.
The road trip with rooftop tent to Serengeti and Ngorongoro Crater in Tanzania; Located in Northern Tanzania, the Serengeti and Ngorongoro Crater both offer some of the best wildlife viewing in the world. A safari through the national parks might reveal a lion hunt, the wildebeest migration or a sighting of the elusive white rhinoceros.
Candlelit dinners, sunrise hot-air balloon rides, and walking safaris with park rangers are all available through most accommodations. Take up bush dinner as a couple for you to reveal the romantic life style.
Self-drive to Namibia; This friendly and easy – traveling country has excellent wildlife viewing in Etosha National Park, but its best African honeymoon destination has to be the Namib Desert.
During Namibia's dry season between June and October, the Namib is a mesmerizing land of silent, primal beauty and night skies spilling over with stars. A visit to the famous Sossusvlei dunes – towering hundreds of feet above you – is a must-do activity. You can walk up a dune to greet the rising sun or take a hot-air balloon flight for a birds-eye view. You'll also explore the desert with expert local guides, on the lookout for unique wildlife in a surprisingly rich and diverse environment.
Seychelles is one of them. Idyllic beaches, clear warm water and a massage for two – that'll be the Seychelles. A scattering of islands in the Indian Ocean – some large, some not much bigger than a city block – the Seychelles has a well-deserved reputation for romance and enjoys equatorial weather.
Activities to look forward to include just about every water sport you can think of, but there is hiking and mountain biking too. As for where to stay, there's no more iconic place than privately owned North Island. This scrap of jungle-clad granite is the favoured African honeymoon destination for royalty and rock stars, guaranteeing a stay of unashamed but gentle indulgence at North Island Lodge – the only accommodation on the island.
Your palatial villa comes with its own pool and a lounge that can be converted into a private cinema. And chat to the chef about your favourite dishes and you can enjoy them at the restaurant or in your villa, served by candlelight.
Go for the Victoria Falls; with the mile-wide Zambezi River tumbling into the abyss, no wonder the Zambian name for Victoria Falls translates as 'the Smoke that Thunders'. It is a destination as famous for its white-knuckle adventures like river rafting and bungee jumping as it is for romantic sunset river cruises and helicopter flights.
Go to Botswana and see what Africa's wildlife was like in the days of the first European explorers: elephants in their tens of thousands, big cats, wild dogs and rivers full of crocodiles and hippopotamus.
Game drives are the main focus when on safari in Botswana. You'll head out in the early morning and late afternoons to look for big game, then return to camp with a spotlight to catch nocturnal animals on the prowl. Many lodges are set on rivers or in the wetland wilderness of the Okavango Delta, enabling you to explore by motorboat and mokoro (traditional canoe).
Looking for that out-of-the-way beach retreat with plenty of romantic comfort and great weather for your honeymoon in Africa? Try the Quirimbas Archipelago. A string of coral islands set along Mozambique's tropical Indian Ocean coast, the Quirimbas doesn't get much colder than 24°C (75°F) at any time – day or night – and the water temperature starts at that and goes up to 30°C (86°F).
With much of the archipelago protected as a marine park, the Quirimbas is a natural choice for scuba divers and water sport lovers, but you don't need to get your feet wet to enjoy the Quirimbas. This is also a destination of beach side massages and sunset cruises in a traditional dhow sailboat. Accommodation is lightly sprinkled across the islands – elegant, intimate lodges that tend to be the only one on the island.
Vineyards, semi-deserts and Savannah – the Rainbow Nation offers such a diverse set of destinations; it's hard to remember you're in the same country. And it's this sheer diversity that makes South Africa one of the best honeymoon destinations in Africa.
In beautiful Cape Town, the attractions of the Cape Wine lands are a little more sedentary and include fine food, wine, cheese and chocolate tastings. Stay in Franschhoek while honeymooning in South Africa. Ringed by craggy mountains, this quaint town lies at the heart of the Cape Wine lands and boasts the reputation as the culinary capital of South Africa.
Visit Lake Kariba, where a handful of lodges lie on wild lakeside shores, offering land and water-based game viewing as well as walking safaris and local community interactions. It's an un-spoilt landscape of Savannah, open water and distant mountains, with sunsets reputed to be among the best in Africa.
For a more traditional safari experience on your Africa honeymoon, head to Mana Pools National Park. Rugged and beautiful, Mana Pools' abundance of water is a magnet for animals like elephant, buffalo, lion, leopard and rare wild dog.
Mauritius is a tropical playground set in the Indian Ocean, ringed by coral reefs, white sand beaches and clear calm water. It's been one of the most popular honeymoon destinations for South Africans for many years.
World-class holiday resorts are scattered along the island's coastline offering enormous swimming pools, endless water sports and shaded sun loungers a few steps from the sea. The service at these resorts is superb, the facilities excellent and all tastes are catered for: that's the beauty of a Mauritius honeymoon – it's easy and stress-free with everything conveniently close at hand.