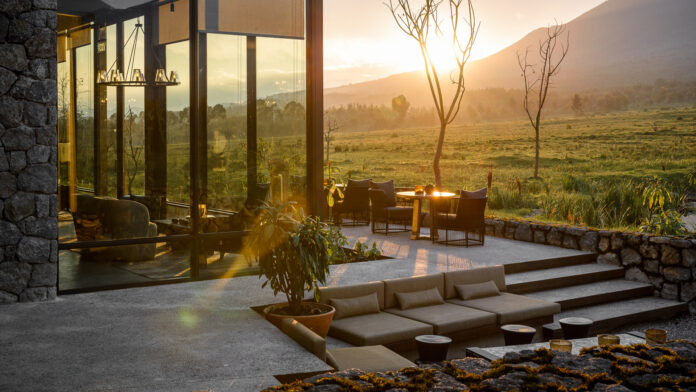 Singita Kwitonda Lodge is set within a landscape of wetlands and lush meadows with magnificent views of the Sabyinyo, Gahinga and Muhabura Volcanoes. Designed around local materials, the buildings have been crafted using volcanic rock, river stone, handmade ceramic tiles and oven-red clay bricks made by surrounding communities; connecting the structure to the landscape and its culture.
These influences, interpreted in a contemporary style come together in a current, authentic and entirely unique architectural layout that is sensitive to its context and enjoys the privilege of remarkable views.
Mountain bamboo, ferns, giant lobelia and forest trees provide a natural backdrop that over time will engulf the buildings and reclaim them back into the forest. Dramatic stone walls rise out of the volcanic boulders, and from these the architecture is suspended. A combination of green-roofed, stonewalled, organic cabin-like structures set alongside light verandas offers a dynamic play on shape and texture.
The interiors have been carefully curated with a focus on handcrafted details. By layering texture and colour and introducing detail through artisanal and handmade pieces like woven panels, handmade tiles, and clay feature pots, the space is both reflective and interactive. All elements combine to create a rare and richly textured experience that is true to this extraordinary place.
A central hub with beautiful indoor and outdoor living spaces serves as the heart of Singita Kwitonda Lodge. This space forms an experiential enclave with lounges, dining areas, an outdoor fire pit, an interactive kitchen, bar deli and a wine cellar for guests to enjoy.
Private, self-contained bedroom suites and amenities lead off of the main lodge via a network of volcanic rock pathways.
It offers 7 one-bedroom suites each with indoor and outdoor showers, an indoor bath, a sitting/rest area, covered veranda, dressing room, mini bar, an in-room massage area, indoor and outdoor fireplaces and a heated plunge pool
A two-bedroom suite with two identical bedrooms featuring indoor baths, indoor and outdoor showers, in-room massage areas and dressing rooms. The suite offers indoor and outdoor fireplaces, a more spacious sitting/rest area, a mini bar, covered veranda and a heated plunge pool
Also includes an exclusive-use four-bedroom villa, Kataza House featuring indoor baths and showers, indoor and outdoor fireplaces, informal living and dining areas, an interactive kitchen, covered veranda, heated plunge pools, cinema room, massage treatment room, fitness centre and small cellar.
Many travelers fly to Rwanda and the first destination is usually Volcanoes National Park for gorilla tracking safaris in the Volcanoes mist. Due to the dense, mountainous landscape, the treks are not easy but extraordinarily rewarding.  Volcanoes National Park also offers great bird watching and viewing of other primates such as golden monkeys. You can also do a 2-hour trek to Dian Fossey's tomb and the Karisoke Research Station.
It starts with a pick up from the airport by the safari driver / guide to your hotel for overnight as well as briefing from the tour consultant and dinner as well. Another picks up early in the morning to the gorilla paradise.
Barely 2.5 hours away from Kigali, can you begin your journey into the Virunga Massif to see one of the most endangered primates on earth – the Mountain Gorillas. Take a drive around Musanze town as you prepare for your check in at your preferred lodge.
With your Rwanda gorilla permit of $1500 booked in advance, be sure of getting a spot for gorilla trekking on the next morning. It starts with a briefing from the park authorities and Rangers at around 7:30am. During the briefing, participants are divided into groups and assigned to a particular gorilla family.
The less fit hikers are assigned groups which are closer to the park offices. At 8:00am, the park Rangers lead the group to search for the gorillas. As already noted earlier, gorilla trekking in Volcanoes National Park Rwanda offers you 10 habituated groups/families to choose from.
Regardless of which group you eventually get, you will find that watching mountain gorillas is breath-taking. You could spend hours just watching the little ones roll around and play. Mountain gorillas are always playful and quite curious. Some may walk right up to you but with no harm intended.
While with the gorillas, it's important to listen to instructions from your guides and to always stay calm. Never make sudden movements. Gorilla tracking in the Volcanoes National Park can take between one to six hours depending on the gorilla group you are assigned and their specific location on the day of the trek.
After that experience, visit the grave of Dian Fossey: Dian Fossey is considered to be one of the greatest primatologists of all time because of her extensive research and work with mountain gorillas from 1969 till her death in the 1980's. She let the world know about the mountain gorillas and fought hard to end poaching. She introduced new approaches to habituating mountain gorillas by learning their mannerism, staying in their midst and gaining the acceptance of the dominant Silver back.
Why miss out on the Golden Monkey experience: Volcanoes National Park is home to the endangered Golden Monkey. These beautiful primates live in the same areas as the mountain gorillas. They survive on bamboo shoots, insects and will occasionally raid farms for potatoes. Golden Monkeys are very playful primates with their only real enemies being man and the African eagle.
Wind up the gorilla safari journey with a visit the Iby'Iwacu Cultural Village: The Iby'Iwacu cultural village is the largest and most visited cultural centre in Rwanda. It is located close to the Volcanoes national park. The centre was opened to showcase Rwanda's diverse culture and allow the community living close to the park benefit from gorilla trekking.
Many of the performers were once poachers and that's why the centre is also referred to as the Gorilla Guardians Village. While at the Iby'Iwacu Cultural Centre, tourists can take part in cultural performances like dance, drama and storytelling.
You will learn how a traditional Rwandan home was organized and be given a chance to taste some of the local food and alcoholic drinks. There are even local medicine men that are ready to share information about some of the traditional herbs used for treating common human ailments.