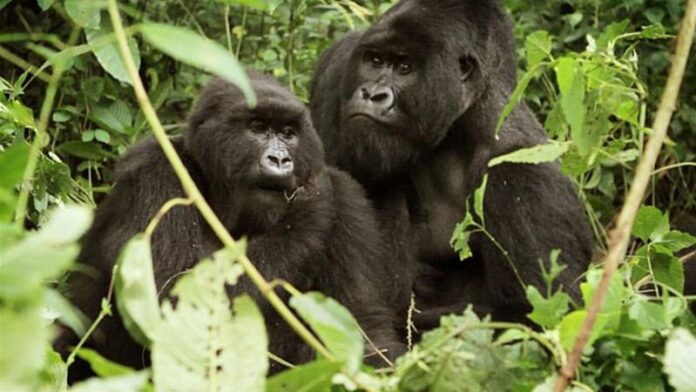 Uganda is a landlocked country in East Africa whose diverse landscape encompasses the snow-capped Rwenzori Mountains and immense Lake Victoria. Its abundant wildlife includes chimpanzees as well as rare birds. Remote Bwindi Impenetrable National Park is a renowned mountain gorilla sanctuary. Murchison Falls National Park in the northwest is known for its 43m-tall waterfall and wildlife such as hippos.
Uganda is home to half the world's Mountain Gorilla population. Seeing these animals up close in their natural habitat is one of the most impressive wildlife encounters in Africa. Visiting the gorillas directly supports conservation efforts and population growth.
There are two gorilla trekking destinations in Uganda: Bwindi Impenetrable National Park and Mgahinga Gorilla National Park. Bwindi is by far the more popular choice as the park contains a greater population of gorillas, is better situated for fly-in safaris, and has a greater range of accommodation options.
The park you visit will depend on your wider travel plans and the time you have available. There is no difference in permit prices or chances of sightings across the two parks. Many of Uganda's safari destinations are also found in the south-west. This makes it easy to combine a savannah safari with gorilla trekking in Uganda to create a single itinerary bursting with once-in-a-lifetime experiences.
Bwindi is Uganda's main gorilla trekking destination. Here, habituated families can be accessed from four trail heads: Buhoma, Ruhija, Rushaga and Nkuringo. Each trail head has its own characteristics, families and levels of difficulty.
Departing from one of the four trailheads on the perimeters of the forest, you join a group of other trekkers (maximum group size of 8 people) for a guided hike into the forest in search of one of the 11 habituated gorilla families. The limit on group size is to keep to gorillas safe from any airborne pathogens, but also to increase the chances of sightings, as larger groups often scare off these timid animals. Once contact is made, there is usually a silent wait, deep within the dense foliage, as the gorilla's edge closer.
When they do emerge, seeing the gorillas in their natural habitat, the verdant forest providing the perfect backdrop, is a truly breath-taking experience. Any silence is soon broken by the rustling of leaves as the gorillas wander and play, and the calls, whistles, and whoops of thousands of animal species for miles around provides the perfect sound-track.
Once contact is made, you have up to one hour to spend with the gorillas. If you wanted to spend longer, you can take part in a gorilla habituation experience, and spend up to 4 hours with these gentle giants.