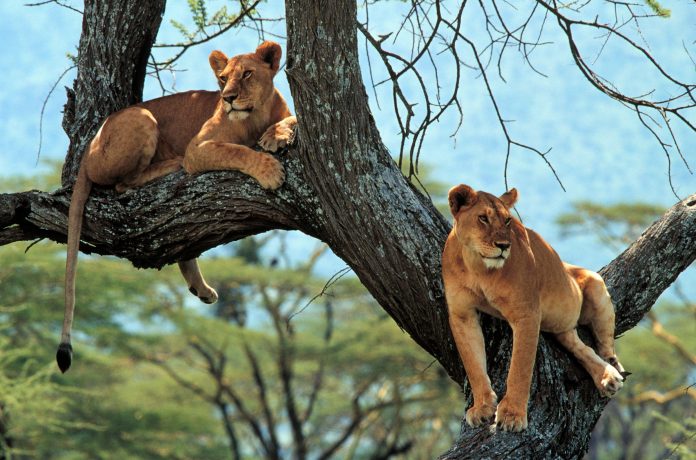 Once in a life time take your time and Visit Uganda plus Rwanda with interest of seeing the African Big Fives in their habitats, Uganda and Rwanda are popular destinations in Africa where the African Big Fives are permanent residents, both Uganda and Rwanda are located in the Eastern part of the African Continent with Uganda bordering Kenya in the East, Democratic Republic of Congo in the West, South Sudan in the North, Rwanda and Tanzania in the South, Rwanda borders Uganda in the North, Democratic Republic of Congo in the West, Burundi in the South and Tanzania in the East.
These African Big Fives include African Elephant, African leopard, African Lion, Cape Buffaloes and the Rhinoceros, these animals are called the African big fives because they were very difficult to hunt on foot by local hunters and very dangerous to human beings, mammals and other primates, they were rated to be the most dominant human killers.
Below are the popular destinations in Uganda and Rwanda where you go with 100% assurance of seeing these African Big fives in their habitats.
Kidepo Valley National Park. This is Uganda's number one destination where the African big fives are permanent residents; it is located in the North eastern corner of Uganda lying between Uganda's border with Sudan and Kenya. It hosts over 77 mammals and 475 different bird species characterized with tropical rain forest, Savannah grasslands, flat and hilly areas plus some parts dominantly covered with Swamps, among the Uganda's top destinations this one is ranked to be the far most located National Park from Kampala covering about 571 kms.
You can better reach it by use of Kampala- Masindi- Gulu highway by use of a Stable Safari Jeep with en-route game viewing or arrange private charters from Entebbe airport or Kajjansi airstrip up to Apoka airstrip.
Other Wildlife Primates and Species in Kidepo include Chimpanzees but rarely seen, Black and White Colobus Monkeys, Blue Monkeys, Red-tailed Monkeys, Antelopes, Impala, Eland, Oribi, Bush babies, Baboons, Hyenas, Giraffe, Zebras and more with different bird species which rates it to be a good haven for bird watching.
Queen Elizabeth National Park. When it comes to Wildlife Queen Elizabeth National Park should be on your bucket list of destinations to visit in Uganda commonly known for the tree climbing Lions in the Ishasha sector site, this Queen's Wildlife include the African big fives (African Elephant, Leopard, Lion, Cape Buffaloes and the Rhinoceros), it's located in the South western part of Uganda bordering Kibale Forest National Park in the Kyambura gorge side, its characterized with sprawling savannah, shady, humid forests, sparkling lakes and fertile wetlands.
Its Wildlife primates and Species include Chimpanzees, Black & White Colobus Monkeys, vervets, Uganda Kobs, Antelopes, bush babies, Baboons, Elands, Hyenas and over 600 species of birds which are habituated in its four major sectors named Maramagambo forest, Kyambura gorge where Chimpanzees are residents, Ishasha sector and Kazinga Channel where different aquatic bird species are sighted.
Akagera National Park. This Park was established in 1934 to protect animals and vegetation in three habitats which include Savannah, Mountain and Swamp and it's located on the North eastern edge of Rwanda bordering Tanzania and the Akagera River. In Rwanda this is the mostly known destination as far as the African big fives which include African Elephant, Buffaloes, Leopards, Rhinoceros and other big games like Zebras, Giraffe and more, Rwanda's unique feature is that it hosts black Rhinoceros which are not found in Uganda. Different Lakes in Akagera are homes to hippopotamus, Nile crocodiles and World's large reptiles; it is recognized to be one of the best spots for bird watching in Rwanda, diverse habitats of the park encourage wide variety of different bird species to the area.
Murchison Falls National Park. Popularly known for the great falls is located in the North western part of Uganda lying on the Albertine Rift Valley, its characterized with tropical rain forest, Savannah grasslands and some parts covered with Swamps with Budongo forest being part of this Park, it hosts 76 species of mammals and over 451 different bird species. This Park is bisected by the Victoria Nile which plunges 45m over the remnant rift valley wall creating the dramatic Murchison falls, the centerpiece of the park and the final event in an 80km stretch of rapids. African big Fives in Murchison include Elephants, leopards, Buffaloes and other Primates which include Chimpanzees found in Budongo forest, Giraffes, aquatic species like hippopotamus, Nile Crocodiles and more.
Ziwa Rhino Sanctuary. This is a protected area which was established to reinstate the elapsed Rhinoceros back to Uganda, these animals phased out of Uganda due to un influential factors which included Civil wars, hunting, poaching and consistent diseases. This Sanctuary is located in the Central part of Uganda in Nakitoma – Nakasongola district; you can better access it by use of Kampala- Masindi- Gulu high way on your way to Murchison Falls National Park. First breeds of Rhinoceros to appear in Uganda were brought from Solio ranch in Kenya and others donated from Disney Kingdom of United States of America.