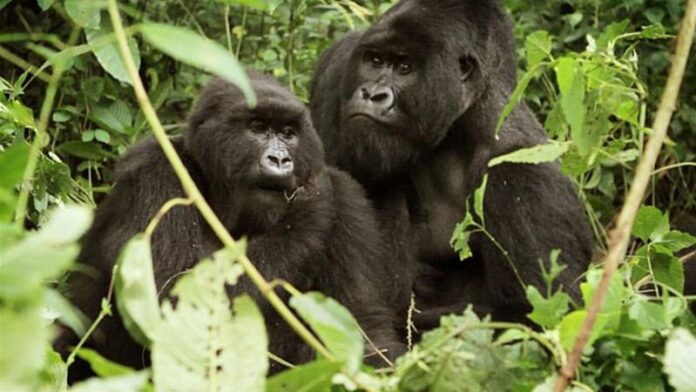 Looking forward to Visiting Uganda, Mgahinga Gorilla National Park is among the top destinations to visit while in Uganda. It is located in the South western part of Uganda nearing Bwindi Impenetrable National Park and it's also inclusive of the Virunga Massif, Mgahinga Gorilla National Park is characterized with thick tropical rain forest comprising of big tree species, shrubs, thick Bamboo forests and some parts covered with fertile watery swamps where different wild animals, primates and species are habituated.
Mgahinga Gorilla National Park is popularly known for the shy endangered mountain gorillas in the mist and it's one of the two major gorilla hosting destinations in Uganda with only one gorilla family for trekking named "Nyakagezi gorilla family".
Other primates and species in this park include black & white colobus monkeys, Red tailed Monkeys, Blue Monkeys, Vervets, Baboons, Golden Monkeys and different bird species recorded sightable in this park.
The best way to reach Mgahinga Gorilla National Park from Entebbe airport is by use of Kampala – Masaka – Mbarara highway with en-route stopover at the equator for some photographs, snacks and briefing about the equator, after that proceed with the journey up to Mgahinga Gorilla National Park.
Another option if not Entebbe airport is when you land in Rwanda at Kigali airport and cross borders via Cyanika or Katuna border up to Mgahinga Gorilla National Park in the south western part of Uganda Kabale district.
For gorilla trekking tours in Uganda if not done in Bwindi Impenetrable Forest National Park, it is the Mgahinga Gorilla National Park to go for gorilla trekking in Uganda. Mgahinga Gorilla National Park has least number of mountain gorillas when compared with Bwindi Impenetrable Forest National Park, and it is only one gorilla family named "Nyakagezi gorilla family" that is habituated in this park.
Mountain gorilla trekking in Uganda requires you to buy a gorilla trekking permit which issues you permission and this costs $700 USD per person usually booked in advance before your trekking dates because its processing takes time, usually once money for the permit is paid its non-refundable.
The gorilla trekking journey is usually started in the morning at the park offices after some briefing about dos and don'ts while in the presence of these apes, after that you are assigned a park ranger guide to lead you through the jungle as for them are always well informed of where these apes spent their last night.
Always a group of eight people is allowed to go for the gorilla trekking activity per gorilla family a day, after locating these apes a one-hour period of time is allowed to be in their presence while seeing them playing with their young ones, feeding and laughing.
After that session you are required to vacate that place such that you create room for these apes enabling them to continue with their day-to-day activities.
Another activity to go in Mgahinga Gorilla National Park is the Batwa cultural experience which involves visiting these people in their local communities and experience their ways of living through participating their activities like using their hunting tools which include spears, bows and arrows, stone age tools which are used in production of fire.
These people in the past years were very shy since they used to spend most of their time in forests and what made them feel isolated in the local communities was the government's order forcing them to vacate areas surrounding the national parks but later, they got used to it and transformed from being forest dwellers to normal human beings who are now practicing real agriculture plus putting on normal clothes doing away with back clothes.
Visiting these people in their communities you will be welcomed with their cultural performances which include dances, songs and more. This experience in Mgahinga Gorilla National Park costs $80 USD per person.