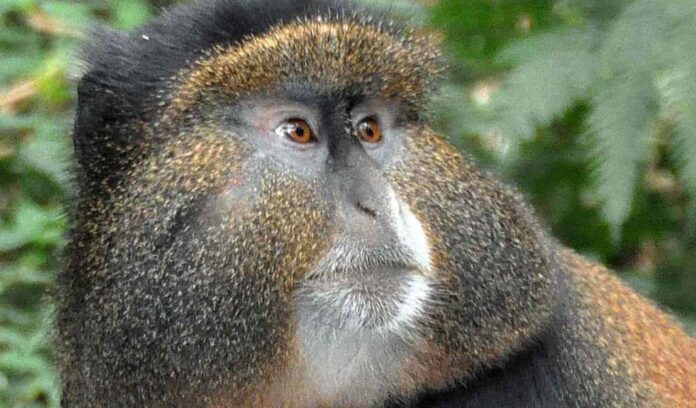 Golden Monkeys are great primates to encounter on your ultimate primate tours in Rwanda, Africa, the very primates am talking about are mostly found in the Eastern part of the African continent as its not automatically that you will find them in which ever African side you go.
But the best spots to go in the Eastern part of Africa is Uganda "The Pearl of Africa" and Rwanda "The Land of A thousand hills", Golden Monkeys mostly behave like Chimpanzees in that they also feed both on ground and up in the tree branches.
Usually feed on young bamboo shoot and stem, tree leaves, flowers, Sugar canes, fruits like Mangoes, oranges, Jack fruit, Water melon, grapes, avocadoes and other crops like maize, ground nuts and more.
By appearance these great primates are black or brownish in color with white strips in their faces, they usually like staying in places characterized with bamboo forests as they like resting in the waving bamboo tree leaves associated with cool fresh air.
There is no greater experience ascertained than meeting with these great primate species in the Jungle more so when you engage in a combined golden monkey tracking experience in Uganda and Rwanda. Have it in mind that visiting these primates in the jungles requires you to buy a permit which issues you permission and its prices vary according to the destination you are to visit, doing a combined golden monkey tracking safari is very simple and cost friendly since these destinations are both nearing each other which involves just crossing borders and since these two countries are both in the East African Community you will required to apply for the East African Visa which costs $100 USD per person and it issues you entry permission to both countries to and flow.
Starting your experience in Rwanda and finish it in Uganda is usually a better experience or you can do vice versa depending on your itinerary and other programs.
Kigali airport is Rwanda's major airport where its visitors usually arrive in, dropping in for your combined golden monkey tracking safari is very easy as long as you have the required documents which include valid passport, visa and yellow fever vaccination card.
After your arrival transfer and have diner plus overnight stay in Kigali city as you prepare yourself for the exciting journey which leads you to the only destination in Rwanda where these golden monkeys are found, this is the one and only popularly known Volcanoes National Park.
This park is located in the north western part of Uganda bordering Virunga National Park of Democratic Republic of Congo and Mgahinga Gorilla National Park all-inclusive of the Virunga Massif, Volcanoes is characterized with tropical rain and montane forests, Savannah grasslands and woodlands, bamboo forests where these golden monkeys reside and fertile swampy areas, it's about 2-3 hours' drive from Kigali up to Volcanoes National Park and reaching there for golden monkey tracking activity its usually started in the morning after some briefing about Dos and Don'ts while in the jungle.
The tracking journey is usually done in a group which depends on the number of people available for the activity plus a park ranger guide assigned to lead you through the journey and while in the jungle.
You are advised to move slowly and maintain your voice at low tone while in the Jungle such that you do not scare these primates which may force them to move very far with interest of hiding away, after discovering their location in the jungle you are allowed to be in their presence for only one hour while seeing them playing with their young ones, feeding on young bamboo shoot plus taking photos and videos of them.
While in the Jungle you will be able to sight other primates which include Black & White Colobus monkeys, L'Hoest's monkeys, Red tailed Monkeys, Blue monkeys, Vervets and Baboons plus different bird species recorded sightable. The permit which issues you permission for the Golden monkey tracking activity in Volcanoes National Park costs $100 USD per person.
After Golden Monkey tracking in Volcanoes National Park cross borders either via Katuna or Cyanika border up to Mgahinga Gorilla National Park for the second golden monkey tracking session.
Mgahinga Gorilla National Park is located in the south western part of Uganda popularly known for the shy endangered mountain gorillas although it's the only destination in Uganda where golden monkey primate species are found, Mgahinga Gorilla National Park is characterized with thick tropical rain forest, Savannah grasslands and woodlands, thick bamboo forests and fertile wetlands.
There are two options of reaching Mgahinga Gorilla National Park where by one is when you cross from Rwanda and the other is when you from come from Kampala the capital city of Uganda but crossing from Rwanda is considered to be shorter and quicker when compared to the other route option.
These golden monkeys of Mgahinga Gorilla National Park are found in the higher altitudes so the trekking requires you to be physically fit since it involves hiking some hilly areas up to the higher altitudes where bamboo forests are situated, do not also forget to bring yourself strong hiking shoes, insect repellents, capes, long sleeved shirts and trouser, water proof bags and jackets to protect yourself from thorns and hooks, biting insects like tsetse flies, sunshine, skin scratches and rainfall water respectively.
The golden monkey tracking permit in Uganda costs $50 USD per person, while in the jungle you are provided with better spots of other primates which include Colobus monkeys, Vervets, Baboons, different species like big tree species, and different bird species which are recorded sightable in this park.