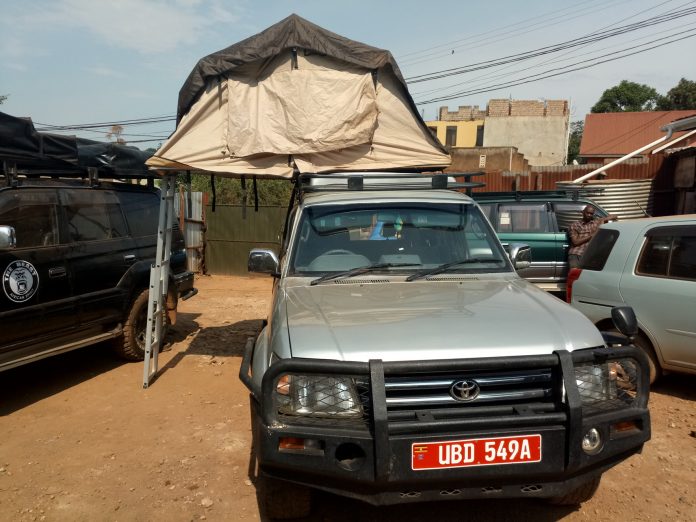 One of the cheapest and most rewarding ways to explore Uganda is a Self-drive road trip. With this option, you hire a Car type of your choice from a reputable company and drive around the pearl of Africa on your own.
To make it more flexible, choose to rent a 4×4 Uganda Rooftop tent car. Operators provide this rental vehicle with a roof tent to use for your accommodation. You can simply call it a car with mobile accommodation.
Uganda sits in the eastern part of the African continent. It has plenty to delve into while on a self-drive holiday. Every region has something to admire. The better thing to do is to sit down and draft a route to follow.
It is usually more fantastic and time-saving when you know the next destination to go from where you are.  For a round trip, you can start from the western, connect to the northern, then to the eastern, and come back to the central. If not, you can do vice versa.
4×4 Car & Rooftop Tent
We have a great 4×4 Land cruiser Prado for you with a rooftop tent. It is automatic with all facilities including charging ports, air conditioning, radio, seat belts, and airbags. For those who prefer a manual transmission system, you are also covered.
The rooftop tent has an inbuilt mattress, an opening, windows, and ladders. If you are more than two people, we can provide the land cruiser with two rooftop tents. This option of two tents accommodates four people.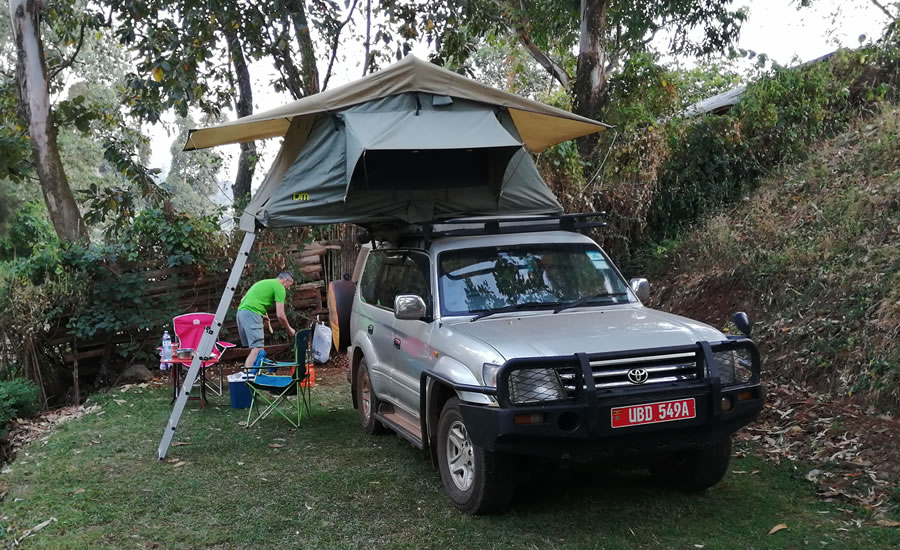 Camping Gear
The camping gear provided depends on the number of people. If you are two travelers, expect to get two sleeping bags and folding chairs, a table, a Jerry can, a cooler box, cooking gas, cutlery, a flying pan, a chopping board, dishes and cups, saucepans, a camping light, two torches, and a washing sponge.
What is the cost?
The cost of a rooftop tent car in Uganda ranges between 80 – 100 USD per day. The amount depends on the number of days, the type of car, and the number of tents installed on the vehicle. Those who take the vehicle for the long term receive discounted rates on the rental. Long-term starts from two weeks going up. For seven days or less, there are no discounted offers for you.
What's required?
To hire a car in Uganda, you must be of the right age, starting at 25 years and going up. Good health conditions are also necessary. You have to possess a valid driving license and passport.
On arrival, the car provider will take pictures of your driving license and passport. You also have to read through the car rental terms and conditions and understand them. After, you sign on the hard copy. The signature indicates that you accept, and that you will follow the rules.
Mode of Payment
Travelers usually pay for the rental on arrival in cash. For those who like to trek the Gorillas or track chimpanzees and golden monkeys, you have to send money for the permits in advance such that we buy these cards and find them when you come to Uganda. Each permit is valid for use by one person.