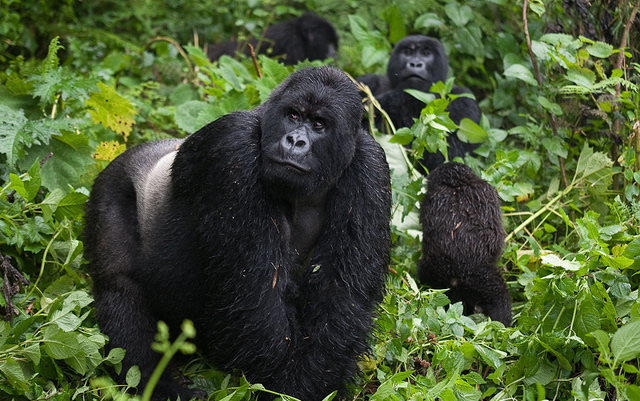 Visit Mountain gorillas in Bwindi Forest National Park and the majestic Lake Bunyonyi considered one of the deepest and most beautiful inland water bodies in Africa, Lake Bunyonyi is a freshwater body located about 400kms south of Kampala and a 4hrs drive from Kigali, Rwanda. Located in the present-day Kabale and Rubanda districts, Lake Bunyonyi lies in the Kigezi highlands' valleys, with several terraced hills adding to the scenic beauty of this famous lake.
Lake Bunyonyi is a renowned tourist destination because of its exquisite proximity to Bwindi Forest national park, the home of the mountain gorillas. Lake Bunyonyi is also a few kilometres away from the Uganda/Rwanda border. Bunyonyi is locally known as "a place of little birds" that offers refreshing experiences ranging from dug-out canoeing, swimming, zip line, and bird watching.
Start with reporting at the park office to attend the briefing by the ranger guide about the DO'S and DON 'TS of gorilla tracking. You will then be assigned to the gorilla family of which you will track.
Expect to walking long distance on a steep and muddy and slippery trail, sometimes with rain overhead while tracking gorillas. The whole exercise may be strenuous but the joy you experience after encountering the gorillas is overwhelming.
Meeting the gentle giants in Bwindi Forest is perhaps one of the most exciting wildlife experiences on earth. Trekking may take 3-6 hours depending on the movement of the gorillas in their natural habitat.
You will stay with the gorillas for a maximum of one hour once you encounter them, and then on return from tracking, you may go for community walk to meet local people including Batwa/ pygmies as you learn about their way of living. On the fresh day, you will embark on lake Bunyonyi visit.
Visiting Lake Bunyonyi is a "must do" for most travelers visiting south-western Uganda to track the mountain gorillas in Bwindi Impenetrable National Park. It is very possible to combine canoeing on Lake Bunyonyi with gorilla trekking in Uganda, both at Bwindi National Park and Mgahinga Gorilla National Park.
Take up all the most popular activities at Lake Bunyonyi; dugout canoe trekking, bird watching, visiting the many islands of the lake, community visits and home stays, zip line, walking and hikes, and biking. All this will help you to get relief all the way from gorilla trekking hikes. Several budgets, luxury and mid-range accommodation options are available around Lake Bunyonyi and in the nearby Kabale town.
Take boat trip to visit different historical islands on the lake such as Akampene also known as Punishment Island, Bwama and Njuyera also known as sharp's Island, Bushara Island and many more. Alternatively take a canoe tour. All these are memorable ventures on this trip which you can't afford to miss.