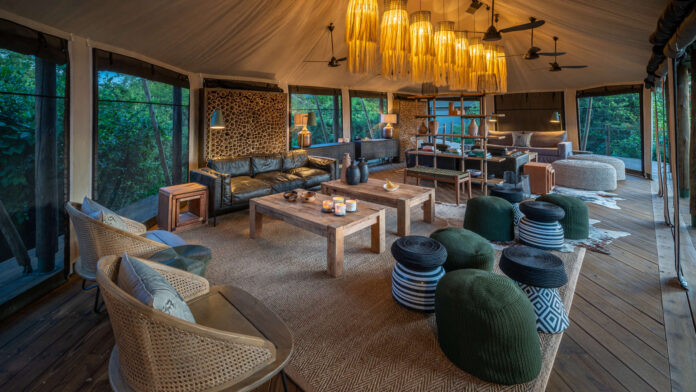 Wilderness tours in Rwanda are one of the key attractions in the country with several wild species. Though Rwanda tours may not seem like the classic African wildlife safari destination, in the east of the country is the scenic Akagera National Park that is worth exploring.
Akagera Park is surrounded by Savannah plains, rolling hills and deep valleys in the north, papyrus swamps, and lakes to the east. Akagera National Park is home to Savannah wildlife species like giraffes, elephants, lions, zebras, and many more.
Rwanda is also home to several wildlife species including thirteen primates including chimpanzees, monkeys, and the Ruwenzori colobus arboreal colobus which move in groups of up to 400 individuals.
This is the largest population troop size of primates you can sight in Africa. Many tourists take Rwanda safaris to gorilla treks in Volcanoes National Park or trek chimpanzees in Nyungwe Forest National Park and miss out on several wildlife species that can be seen.
Taking a Wilderness safari in Rwanda at the best time is the perfect way of having an incredible safari. The best time to visit Rwanda for a wildlife safari is during the months of June to September and Late December to February which are the long and short dry seasons respectively.
This is the best time for wildlife viewing in Akagera National Park and the generally best time for visiting Rwanda. However, it's a bit different for Chimpanzee trekking where the best time is during part of the wet season which is from October to November when the chimpanzees do not walk for long distances.
Emphasis is put on the wilderness collections for you to get the best out of your safari. Wilderness Magashi Camp offers a very high-end base camp from which to explore Akagera! As this national park is a lesser-visited area in Rwanda, the prices for Wilderness Magashi are very reasonable and designed to appeal. So, for a great-value safari, offering luxury and some of the best service and guiding in the country, this lodge is well worth including in an itinerary to Rwanda.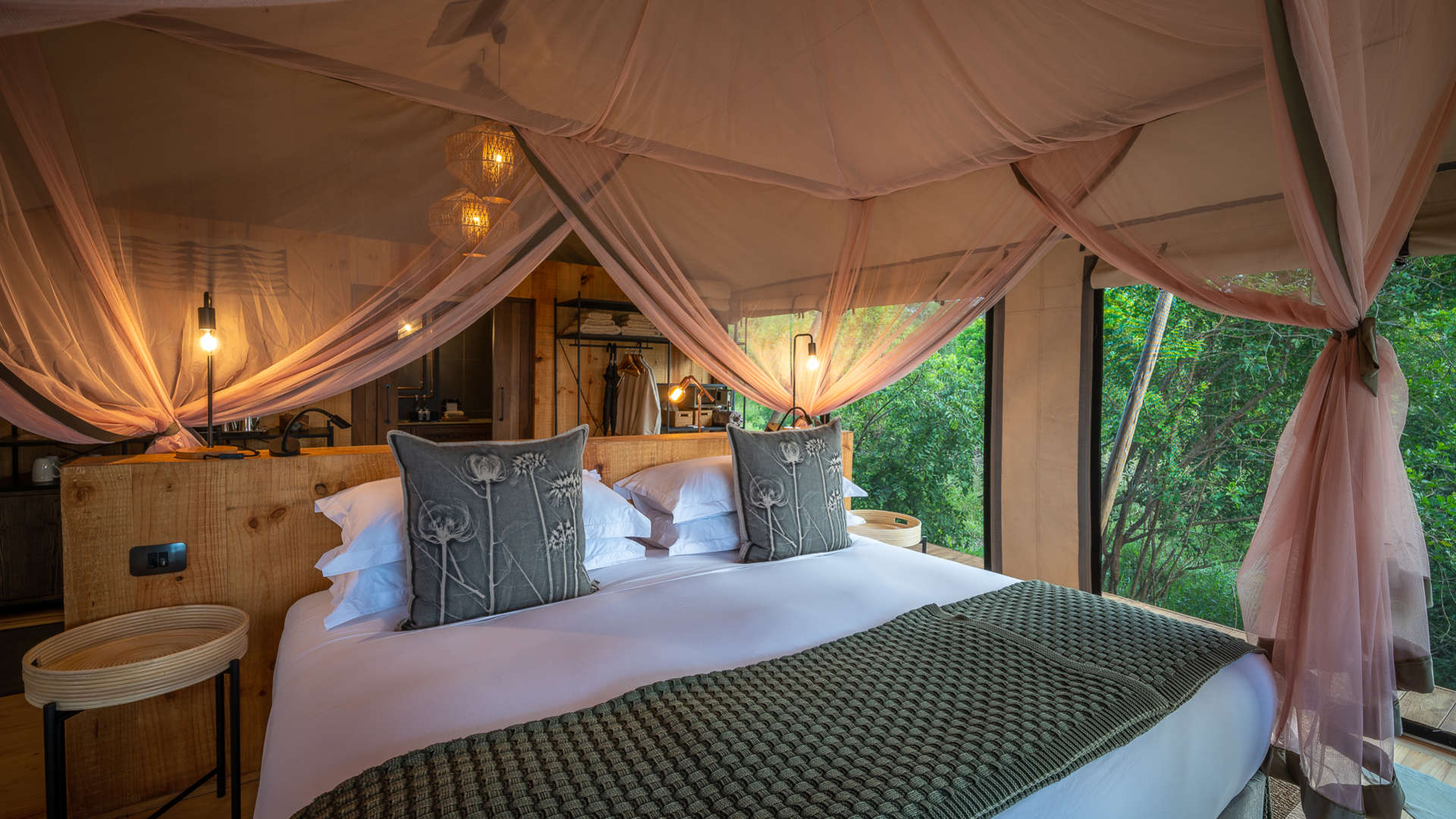 Magashi Camp – Rwanda
Wilderness Magashi is a great addition to Wilderness' impressive and extensive portfolio. The collection features some of our favorite camps and lodges across safari Africa, not least the fabulous Wilderness Bisate, a lodge providing gorilla treks in Volcanoes National Park. Wilderness Bisate and Magashi Camp would make a really great combination for a diverse experience of the country. The accommodation is booked on a full-board basis, and the camp is open throughout the year.
Guest accommodation consists of just six tented rooms, accessed via a wooden walkway from the main areas. The rooms look spacious and airy – and they're open sided, boasting uninterrupted lake views. Each has a king-size bed that could be reconfigured as twin beds, bedside stands and lighting, some storage furniture, and a comfortable seating area. A couple of plush rugs adorn the timber floor, and useful additions such as a multi-plug adaptor for charging, fans for hot days, and tea-and-coffee-making facilities add to the comfort. Every en-suite bathroom includes an indoor shower, single sink, and flush toilet.
The communal spaces at Wilderness Magashi are also airy and open sided, with beautiful vistas over the lake. There's a luxurious lounge, dining and bar area, pool, and expansive viewing deck with a convivial fire-pit, which is the perfect place for guests to socialize and share safari stories! The lounge has sumptuous seating around coffee tables, elegant lighting, overhead fans, and shelves containing reading material and some intriguing artefacts.
The dining area features chic tables-and-chairs, in addition to fans and sophisticated chandelier-style lighting, while the bar is centrally positioned within the building and features traditional Rwandan Imigongo elements. All interiors flow out onto the large viewing deck, with a semi-circle of chairs around the fire-pit. There isn't a picture of the pool yet, but we'll add that to our set of images once it becomes available.
The Bisate Lodge, adjacent to Volcanoes National Park, combines the bucket-list gorilla trek with a pioneering vision of reforestation and community partnership.
Bisate is located in the natural amphitheatre of an eroded volcanic cone, with dramatic views of the peaks of the Bisoke and Karisimbi volcanoes rearing up through Afro-alpine forests.
Encountering one of the gorilla groups in the nearby Volcanoes National Park is a unique experience.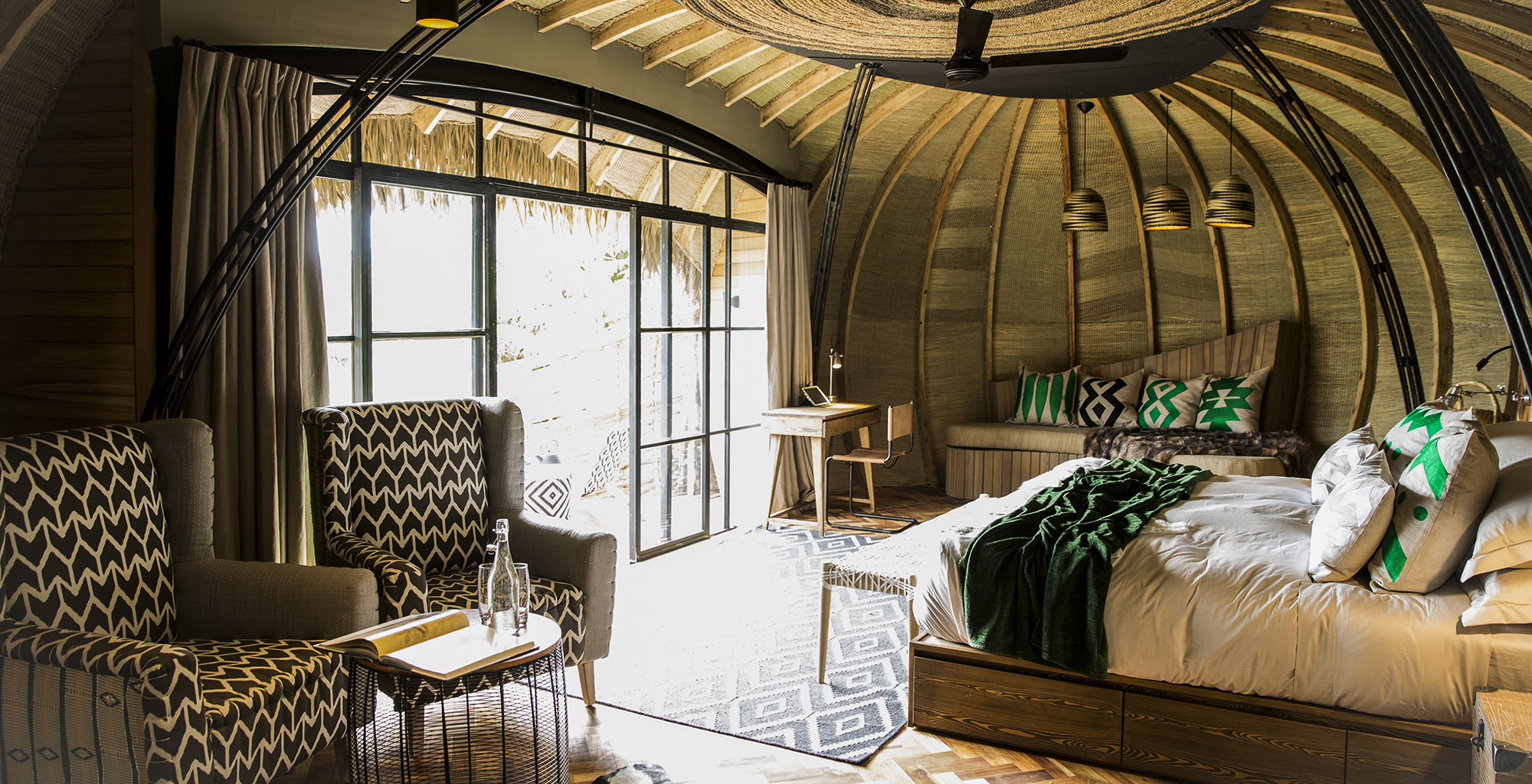 Six opulent en-suite forest villas maximize comfort and views while adhering to environmentally responsible principles and reflecting the rich culture of rural Rwanda. Bisate is within easy driving distance of the Park Headquarters, from where gorilla treks depart daily. Walks on Bisate's property offer birding and participation in the reforestation programme.
Bisate is Rwanda's first genuinely luxurious and eco – sensitive safari camp, centred on Africa's most immersive wild primate experience.
Bisate Lodge has dramatic views of the Bisoke and Karisimbi volcano peaks rising through the forests of nearby Volcanoes National Park. It is within easy driving distance of park Headquarters, from where once-in-a-lifetime gorilla treks depart daily. Exploring around Bisate includes community visits, birding, golden monkey tracking, and helping reforest the area, Gorilla Guardian Village, the Twin Lakes of Ruhondo and Burera, and Dian Fossey's grave.
One & only Nyungwe house, set in an emerald-green tea plantain in the midst of a magnificent mountain rain forest on the edge of Nyungwe National Park, a showcase of Rwanda's even-greener glories, One & Only Nyungwe House is a deliciously remote and newly remodeled camp that exemplifies the modern trend toward immersion in untroubled nature with calm and delighting luxury.
Its guests have a special affection for lodges that combine slow-down-the-world serenity with exciting, expertly choreographed forays into Africa's incomparable wilderness. One & Only Nyungwe House is just such a place.
Sabyinyo silver back lodge, Spending time with gorillas is the experience of a lifetime, but why stay at Sabyinyo Silver back Lodge while doing so? Sabyinyo is luxurious, yes, but everything comes down to this lodge's unbelievable location.
When beginning your gorilla safari, being directly adjacent to the park makes mornings a breeze: wake to piping hot coffee delivered to your room, and soon after you're whisked down to the park headquarters, no need for long drives between locations.
And once your gorilla trek is done, you can enjoy the phenomenal views: the peaks of the volcanoes rising through the mist, the lush green rolling hills, and you on your private veranda with a relaxing cocktail, drinking in the beauty of Rwanda.
Lush and green, Rwanda's Parc National des Volcans is the quintessential jungle paradise, with the velvet-green slopes of the Virunga volcanoes as a stunning centerpiece. Buzzing with the sounds of jungle life, this rain forest still hosts the soft morning mists that gave Dr. Dian Fossey the title for her legendary book Gorillas in the Mist. And the rare and regal mountain gorilla still calls this place home.