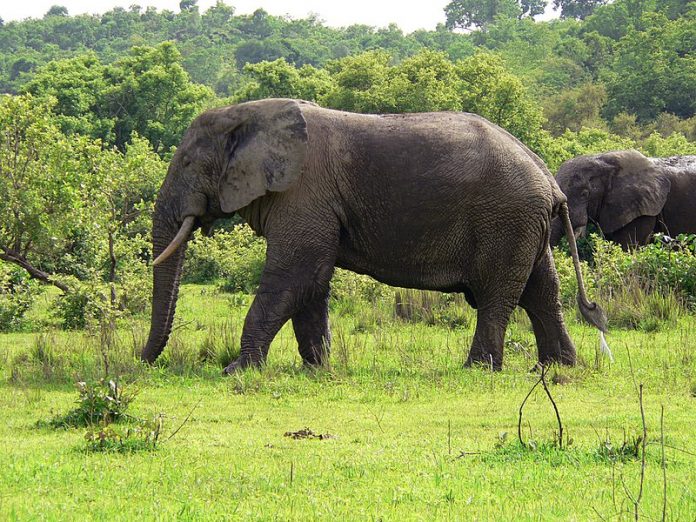 An African safari is one of the most exciting and rewarding holidays you could experience. There is nothing quite like the thrill of a wildlife Ugandan safari.
The impressive snow-capped Rwenzori raise high above Queen Elizabeth National Park, home to abundant game, while the endangered mountain gorilla can be found in the rain forests of Bwindi, the source of the river Nile, Uganda's enormous Lake Victoria is also a sight to behold.
Above all it the excitement of the unexpected in the bush, one never knows what new sights and experiences each day will bring. Deciding on a destination for you African safari can be sometimes be difficult, some parks are good for family holidays, others are designed for romance, other are geared towards birders, while other should only be visited at certain times of the year.
The 11-day ultimate Uganda wildlife starts from Kampala and takes you to Uganda's remote Kidepo Valley National Park north-east corner of Uganda, the park lies in the semi-arid region with unlimited profusion of game.
The journey takes you through Kitgum town through the busy traffic jammed streets of Kampala city via Luwero Triangle, dinner and overnight in Kitgum at your desired accommodation.
Early morning after breakfast, we set off for 2 to 3 hour drive to Kidepo Valley National Park navigating the dirt game tracks that lead through the golden grasses of this savannah park presenting repeated opportunities to see around 475 bird species, some of the 77 mammal species including zebras, elephants, lions, leopards, giraffes and the cheetahs with assurance of plenty of cape buffaloes. Kidepo is really the 'true African wildernesses. Dinner and overnight at Apoka Lodge/ UWA Bandas
Day 2: Take a full day drive in Kidepo Valley National Park as you go for a morning game drive in the Narus Valley. You are advised to use a ranger at all times, they will help you spot some of the park's lions that may be sitting on the valley's various rocks.
Other wildlife you may see includes elephants, leopard, bush baby, buffalo, zebras, giraffes and much more. Though wildlife is scarce in the arid Kidepo Valley, the hour-long drive to Kanangorok Hot Springs passes some magnificent landscapes.
North of Apoka, beyond the river crossing, the road passes between rock outcrops and hill before descending into the Kidepo Valley, crossing the Kidepo sand river and traversing open plains that extend past Kanangorok Hot Springs towards mountains across the Sudanese Border. This is the part of the park where ostriches are most commonly seen.
In the evening you will experience the cultural encounters in Kidepo Valley. The notorious cattle-herding Karamojong occupy north-eastern Uganda, in an area covering one tenth of the country.
On this safari you will discover the unique culture of this remote tribe with the Lorukul Cultural Group, located just outside Kidepo Valley National Park. The main livelihood is herding livestock, and the social and cultural importance will be explained as you walk with the guides to the traditional Karamojong Manyattas (homesteads), granaries and cattle enclosures.
You will get to learn how the villagers make their distinctive beads, sample the local cuisine and even meet the Karamojong King, who will narrate the tribe's folklore and beliefs.
Next to Kidepo Valley National Park is Murchison Falls National Park. We drive through Kitgum town, Gulu town for lunch and continue through Karuma checking into Murchison Falls National Park.
You enjoy an en-route game drive through the northern section of the park popularly known as Paraa where you will have chances of spotting many mammals and if lucky you see big cats hunting. Dinner and overnight stay at Paraa Safari Lodge
Rise up with a heavy breakfast and set off for a game drive around the Buligi game tracks on the northern bank with a trained ranger guide as a fantastic way to see and photograph the wide range of animals in the Nile Valley.
Here you will have a chance to see lions, giraffes, hartebeest, buffalos, elephants, warthogs, and more others. You will return to the lodge for lunch followed by an afternoon boat safari to the base of the Victoria Falls on River Nile.
On this boat safari, you will have a chance to spot many water birds, wildlife including school of hippos, crocodiles plus elephants and buffaloes that come to drink water. Return to lodge for dinner and overnight stay.
Transfer to Kibale National Park the finest place to get ultimate with man's closest relative, the chimpanzee. Take a full day drive to Kibale Forest National Park about 9 hours' drive from Murchison Falls National Park.
This is not an ordinary journey as it involves driving through the lush country side dotted by amazing features of earth movements including the Albertine Rift Valley. The farmed landscapes bring out the typical African villages.
The lunch break will be made in Hoima town and continue to Fort Portal and then Kibale Forest in particular arriving late in the evening overlooking the mystical Rwenzori mountains famously known as Mountains of the Moon, dinner and overnight at Kibale Forest Lodge.
Take an early breakfast before your primates tracking safari in the forest. Choose between the half day tracking experience or a full day chimp habituation adventure. As you search for Kibale's resident chimpanzees, keep an eye out for other primates such as grey-cheeked mangabey along with L'Hoest's, red colobus, red-tailed and blue monkeys.
Your expert guide will share the secrets of the forest's flora and fauna, ensuring that the trail is both informative and enjoyable. After lunch, for those not on participating in chimpanzee habituation, the Bigodi Women's Group will take on a thrilling boardwalk trail through the papyrus swamp of the Bigodi Wetland Sanctuary. After the nature walk, retire back to your lodge for dinner and overnight stay.
After breakfast from Kibale Forest, we set off our safari jeep heading to Queen Elizabeth National Park Uganda's second largest park, located at the base of the majestic Rwenzori Mountain range passing through fertile agricultural land and the lower slopes of one Africa's largest mountain ranges, namely the Rwenzori Mountains.
As you head to Kasese, you will cross the equator as the road passes through Queen Elizabeth National Park. Upon arrival at the park, you will embark on a game drive en-route to your lodge enjoying wonderful sightings of elephants, buffaloes, and the rare Uganda Kobs in a distance.
After lunch you will enjoy an afternoon boat cruise on Kazinga Channel which joins Lake George and Lake Albert. Here you will be able to see schools of hippos, crocodiles, elephants and buffaloes that come to drink water plus water birds along the shallow waters.
Rise up for a classic African safari experience through the Kasenyi tracks offering virtually guaranteed buffalo, antelope and elephant sightings, along with warthogs and baboons. Taking an experience guide in the early morning or dusk is the most successful way to track down a pride of lions and may be even the odd leopard.
You will be search for all the wildlife in the park and you will come across elephants, herds of buffaloes, waterbucks, Uganda Kobs, and warthogs among others. After lunch you will proceed to the southern part of Queen Elizabeth National Park called the Ishasha sector.
If you are lucky you might spot a few during your game drive. After the experience, you continue to Bwindi Impenetrable National Park located in south-west part of Uganda on the edge of the legendary Rift Valley.
Bwindi's dense forest is home to nearly half of the world's population of mountain gorillas a critically endangered subspecies with approximately 880 individuals remaining in the wild. In this forest you trek the park's habituated gorilla groups on foot allowing you to come face-to face with these thrilling great apes.
Bwindi forest is also home to chimpanzees, baboons and other mammals including forest elephants and antelopes. The bird life is diverse with more than 20 endemic species and the park also gives you chance to meet the region's native Batwa people. Dinner and overnight at Ruhija Gorilla Friends Camp
For most people, a Uganda Gorilla tour is the major highlight, today you will prepare yourself for an encounter with mountain gorillas of Bwindi forest. Make sure to carry along with your rain gears, hiking shoes, long sleeved shirt and trouser, insect repellent, sun glasses, a hut, mineral water and snacks.
The guides will lead you into the forest to start searching for the shy gentle apes.  The experience of meeting gorillas and chimpanzees in the wild can be truly an extraordinary experience. Coming face to face with animals which is so clearly intelligent and thoughtful is really unlike any other animal encounter in Uganda.
Once you find the gorillas, you are given only one hour watching and observing while taking amazing photos and videos of them. Once the experience is done, you return back to the trekking point for your gorilla trekking certificate. From there, proceed to Lake Bunyonyi for your dinner and overnight.
Lake Bunyonyi is located south-west Uganda and it is the second deepest in Africa, it is one of the few lakes in the region that is bilharzia free and safe for swimming. Here you will relax on the beautiful Lake Bunyonyi enjoying some of the best scenery in the world.
You go for swimming, boat ride, go see the Batwa people, birding watching among others. Transfer back to Kampala for your next destination.