Arusha city is located in the northern highlands of Tanzania, beneath the twin peaks of Mt. Meru and Mount Kilimanjaro, Arusha is the safari capital of the country. Guests embarking on the popular northern safari circuit all stop in the 'Geneva of Africa' to prepare for their journeys into the African bush.
Arusha is a major international diplomatic hub. The city hosts and is regarded as the de facto capital of the East African Community. Since 1994, the city has also hosted the International Criminal Tribunal for Rwanda. It is a multicultural city with a majority Tanzanian population of mixed backgrounds: indigenous Bantu, Arab-Tanzanian and Indian-Tanzanian population, plus small White European and white American minority population. Religions of the Arushan population are Christian, Jewish, Muslim, and Hindu.
It boasts a breathtaking mountain backdrop. Mount Meru is Tanzania's second highest peak and many travelers use it as a warm-up for scaling the mighty Kilimanjaro. Others, however, are happy to admire it from afar.
If you fall into the latter category, you'll be pleased to hear this dormant volcano provides a spectacular backdrop to Arusha. Anyone who's averse to exercise can also take a Tanzania trip to its lower slopes and enjoy a far less strenuous camel safari or bathe beneath the water falls of Arusha National Park.
Arusha's population comprises more than 100 nationalities. It's also a melting pot of Iraqw, Hadzabe, Maasai, Swahili and dozens of other indigenous and ethnic cultures. Muslim and Christian communities live peacefully side by side, and locals will greet you warmly with the Swahili saying Karibu, meaning 'welcome'. Many cultural tourism programmes organize excursions to nearby villages to meet indigenous Wa-arusha and Maasai tribes.
Tanzanite Experience the world's only museum dedicated to this gemstone can be found in the heart of Arusha. Head to the Blue Plaza on India Street and take the elevator up to the third floor.
Free guided tours take you into a makeshift mine and explain the history of this vibrant blue gem mined in the foothills of Mt Kilimanjaro. Browse the dazzling tanzanite jewellery on display and make a purchase if you're feeling flush.
Arusha's Central Market is one of the best places to get a glimpse of Tanzanian life, and offers a total assault on the senses. Locals will try everything to be your tour guide (for a fee) and traders are intent on making a sale, so have your wits about you and prepare to barter. There's a lively atmosphere and various stalls of exotic fruit, coffee, nuts and spices.
Arusha has a pretty good selection of coffee shops serving up flat whites, iced lattes and other European style cups of Joe. Check out Afri-cafe and Jambo Coffee House on Boma Road, Café Barrista on Sokoine Road or Fifi's on Themi Road. If you're a serious coffee enthusiast, there are some luxurious coffee lodges on the outskirts of the city where you can take 'Bean to Cup' plantation tours in Tanzania.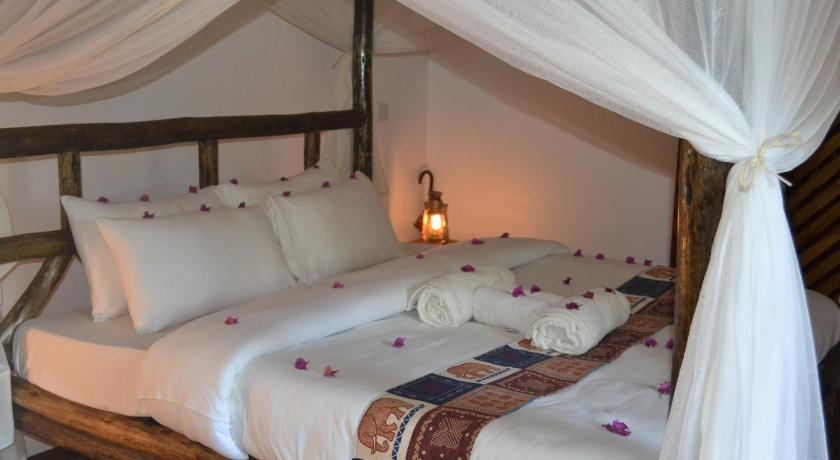 Arusha Coffee Lodge – Room
Arusha's museums are a great place to start if you're looking to find out more about Tanzania's political, cultural and social history. The Arusha Declaration Museum by the Uhuru roundabout offers a look at the country's fight for independence and illustrates the country's colonial past.
The National History Museum housed in a German fort off Boma Road takes visitors on a journey through human evolution. For a wide selection of African art, sculptures and artefacts, head to The Cultural Heritage craft mall.
Arusha Central Market offers many shops selling Maasai fabrics and hand-woven baskets. However, for the best in African souvenirs and curios, it's worth heading to the Mt Meru Curios & Crafts Market (often referred to as the Maasai Market) on Fire Road.
It will take some confident bartering and a keen eye to pick out the best items, but it has the widest selection of goods in the city. For shopping with a conscience, visit the Maasai Women Fair Trade Center on Simeon Road. The Cultural Heritage craft mall also offers a relaxed shopping experience.