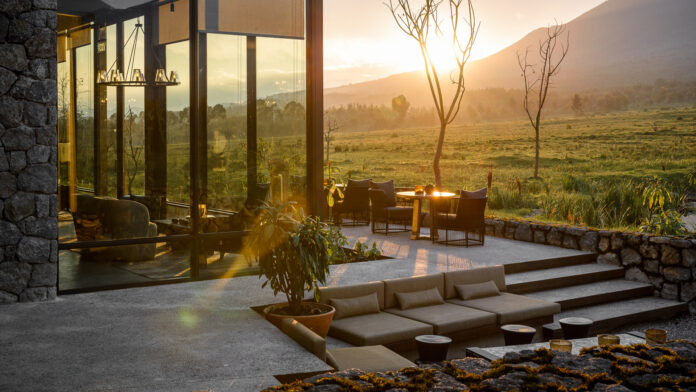 Rwanda has rebranded as new luxury safari destination in East Africa with the opening of international chain of lodges including the Singita Lodges that provides restorative sanctuaries and encounters in the bush that guests won't find anywhere else. Sought-after locations, intuitive attention to detail and the utmost privacy underpin every stay.
Singita Kwitonda Lodge, which was named after a legendary silver back gorilla, is located on 178 acres and shares a 1.2km border with Volcanoes National Park – the only lodge within such close proximity of the park.
Set right on the edge of Volcanoes National Park in Rwanda, where more than a third of the world's remaining mountain gorillas find refuge, Singita Kwitonda Lodge's unrivalled position puts life changing gorilla trekking safari experiences within easy reach. Each of the eight luxurious suites features a private heated plunge pool, wellness treatment area, in- and outdoor fireplaces and large timber-framed windows that welcome breathtaking scenery and volcano views inside.
The lodge includes elements such as woven ceilings and hand-fired terracotta brickwork crafted by local artisans, while a dedicated Conservation Room, Gear Room and on-site nursery and vegetable garden which provides fresh produce for Kwitonda farm-to-table food journey, further enhances the experience. Offering guests, a nurturing space within which to contemplate their encounters with the remarkable "gentle giants of the forest", the lodge envelopes them in a sanctuary of warmth, stillness & solitude.
Singita Kataza House's two heated plunge pools, in- and outdoor fireplaces and large timber-framed windows continuously welcome the breathtaking scenery inside, ensuring a guest experience unlike any other. Set right on the edge of Volcanoes National Park, it puts gorilla-trekking experiences within easy reach and the villa's four luxurious suites provide comfortable, reflective and nurturing spaces in which to appreciate the transformative experience of coming face to face with the gentle giants of the forest.
Singita Kataza House
With features like a fully-equipped fitness center, a two-bedroom staff residence, a cinema and a wine cellar, this modern African home caters intuitively for guests' every need, and the massage treatment room, interactive kitchen and convivial fire pit – making for magical fireside evenings – ensure complete comfort. The onsite Akarabo Garden's abundant fresh produce add to the appeal, culminating in a nourishing farm-to-table food journey that celebrates the fresh flavors of this warm and welcoming country.
Kataza House offers a journey of discovery that ultimately provides inner restoration and a much-needed sense of calm.