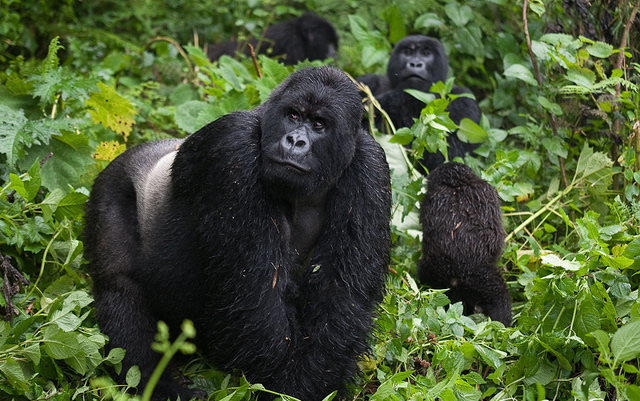 Head to Bwindi Impenetrable Forest National Park where you will be guided into the jungle habitat of a selected gorilla family and once found, spend a full hour among the mountain gorilla family understanding how they eat, communicate and feel. This experience in non-comparable to any other travel experience, so come with a camera or friend and share the experience, time allowed is one hour and in distance of 100 meters.
There are over 12 habituated gorilla groups living in Bwindi impenetrable forested national park, distributed in the four sectors that's: Buhoma, Nkuringo, Rushaga and Ruhija, to track the mountain gorillas, it's the availability of the gorilla permit that determines the sector for your gorilla trekking safari tour.
The walking can sometimes be tough and long, but when you catch a glimpse of the magnificent silver back, any discomforts will be quickly forgotten. When sighted, visitors will be guided to within 6 metres from the gorillas, sit around them for a whole hour while gazing into their big round eyes, behaviours and memorable pictures will be taken without camera flashes.
It's difficult to foresee how many hours you will hike. The gorilla excursion can take from 2 up to 8 hours. Expect to walk along distance in steep and muddy conditions, sometimes with rain overhead, before you encounter any gorillas. A good physical condition is recommended.
For conservation purposes, time spent with the gorillas is limited to one hour. A ranger will brief you on how to behave with the gorillas.
After gorilla trekking tours you will return to the park headquarters where you will be awarded with certificates for participating in the gorilla trekking activities. Evening you can do Batwa community walk, and then retire to your lodge for overnight.
Continue with your safari to the queen Elizabeth national park for yet another wildlife encounter. It inhabits a variety of different species of mammals, birds and the famous Kazinga channel for boat cruising.
Queen Elizabeth National Park is definitely among the world's most bio diversified wildlife sanctuary with a lot of wild animals like: Leopards, Chimpanzees, Hippos, African Elephants and Cape Buffaloes not forgetting the beautiful launch cruise along Kazinga channel will make your safari memorable!
Queen Elizabeth National Park is understandably Uganda's most popular tourist destination, covering 2000 square kilometres, the park's diverse ecosystems, which include sprawling grass Savannah, open bush country, shady humid forests, riverine forest, lowland forests, sparkling lakes and fertile wetlands, rivers, and lakes. Bordering Lake George and Edward, as well as Kazinga channel in the western party of the rift valley.
This makes it the ideal habitat for classic big game (lion, leopard, African elephant, Cape buffalo and hippo named by colonial safari trophy hunters) ten primate species including chimpanzees and over 600 species of birds.
Depart for a sunrise game drive on the northerly parts of the park along the Kasenyi track. It is at this time that the Big Cats are active on their daily hunts. We will drive around the crater Lakes in search of Leopard, Lion, Hyena, Uganda Kob and other wildlife. Later, return for breakfast and relax by the pool.
In the afternoon, take a boat cruise on the Kazinga for solitary Buffalo, Hippo and other animals at the edge of the channel as they cool off and European migrant birds like the terns and gulls congregate here in large flocks.