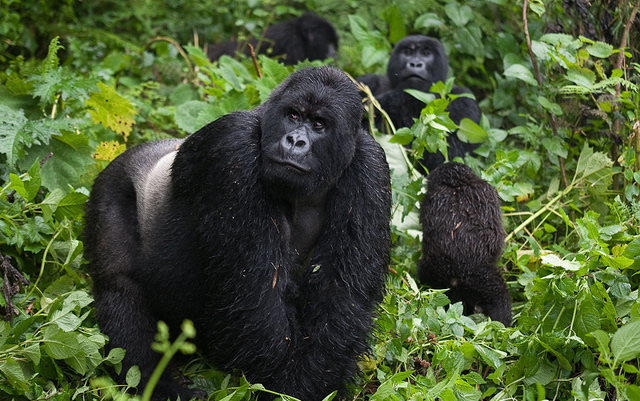 Rwanda and Kenya safari holidays, including Twin Lakes, gorilla trekking, golden monkeys and Lake Kivu. This was truly a once in a lifetime experience that I will never forget, I can't thank gorilla safaris tours and Emma, in particular, enough. As a solo female traveler they made my experience so comfortable, easy and genuinely life changing.
We traveled in three countries that is Rwanda, Uganda and Kenya. If you're on the fence about whether or not to go to Kenya just do it. You will love it. It's great experience. The hospitality is great. The wildlife is majestic and the air is Mara is so fresh that it'll change the way you feel about air itself.
Going on a Kenya safari is an unparalleled adventure that fully immerses you in the breathtaking African wilderness. Picture yourself experiencing the awe-inspiring roar of lions and encountering majestic elephants, towering giraffes, and graceful zebras up close on a thrilling game drive.
Additionally, you can also engage with the friendly Maasai people, gain insight into their customs, and appreciate their one-of-a-kind way of life. Whether you witness the spectacular wildebeest migration or observe the Big Five in Maasai Mara, a Kenya safari guarantees unforgettable memories that will stay with you forever.
And when it came to Rwanda, it was thrill. The entire trip was a positive overwhelming experience. It is one of the cleanest countries I have visited. The people seemed to be happy and proud of the culture and their country. I was never concerned for my safety. It is about a 3 hour drive to the mountain lodge for an overnight stay before the hike to see the gorillas.
The trip into the National Park to see the gorillas is very well organized. Please be sure to hire one of the men to assist you on your walk. It is only $10 US dollars and some of these men are reformed poachers. They are kind and much dedicated to ensure you have a safe and enjoyable trek. Several park rangers escort you and welcome any questions you have.
Emma was so kind and friendly, we drove for miles to all the different destinations across Rwanda and Kenya meeting fantastic people all along the way, along with the amazing people I met who taught me all about their culture, the other highlight has to be gorilla trekking in Uganda, it was spectacular – got so close to the incredible species and got to learn all there is about them and the protection of them. If you are looking to travel around East Africa, look no further – gorilla safaris tours is safari outfit to use in East Africa!
I thank Jackie who was immediately responsive and helped arrange hotels, permits and customized our trip in under a week. Even though we thought we were going to do double gorilla trekking in only Rwanda, but Jackie suggested also Uganda as the permits are cheaper ($700 vs. $1500). So we did decided to do gorilla trek Rwanda Uganda. The experience of seeing the gorillas firsthand was truly memorable and made all the better by the incredible logistics/planning from Jackie and Emma.
Just when you think that it couldn't get better, time to go to Volcanoes National Park and trek! A short orientation at the site and additional entertainment from the local dancers, the somewhat strenuous trek eased with assistance from the guides was beyond worth it when the gorilla troop was encountered.
There was every age group in the troop and we were particularly fortunate to visit the troop that had surviving twins and witnessed them in their mother's attentive arms. Words are insufficient to describe the experience! – I will tell you that it touches your very soul.
When you make eye contact with these close relatives, I do not know who was studying who, I do know that I was gifted with their trust and tolerance to be allowed to observe them for an hour which went by too quickly.
Returning from the site, there is an internal quietness from the contact with these forgiving animals – they hold no malice for the wrongs we have committed. The experience is life-changing.
Emma was knowledgeable, friendly and truly committed to the local communities, ensuring fees/money go the locals and not the middle man corporate. Emma is a wealth of information and one of the best guides I've even been with.