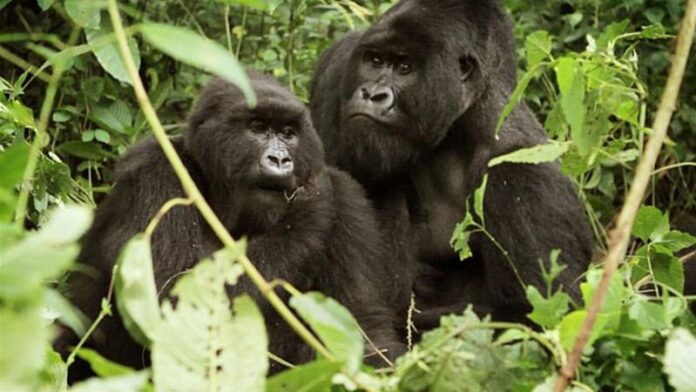 Gorilla trekking is thought to be the best experience in the world. All those interested in gorilla trekking must acquire a gorilla permit from Rwanda Development board.
The price of Rwanda gorilla permit is currently at USD1500.
You require your passport details as they are needed by Rwanda Development board to sell you a gorilla permit so as to be guaranteed for the trek.
It is advised that you book your gorilla trekking tours experiences at least 3-5 months in advance.
Gorilla tracking is one of the sought-after activities and sometimes Rwanda gorilla permits tend to sell out quickly.
This mostly happens in high season months of June, July, August, September, December, January and February when rains are relatively low and nobody would like to trek Rwanda gorilla in rainy season if there is a chance to avoid it.
Rwanda is so interesting since you can do Volcanoes National Park gorilla trekking tour in one day much as this depends on where one is at the day of gorilla tracking. It is possible to drive very early from Kigali, trek gorillas and return back on the same day.
Those interested in trekking gorillas in Volcanoes National Park should at least plan to spend minimum of 2 days and one night for such gorilla treks in Volcanoes National Park.
We will look at your arrival and departure flight details and advise you on the best way to handle your gorilla tour in Volcanoes National Park.
For a relaxed gorilla safari in Volcanoes National Park, one should plan to spend at least three days since you will have the first day for traveling, second day for gorilla trekking in Rwanda and the last day for traveling back to Kigali Airport for your departure flight out.
After gorilla trek, you can choose to go for relaxation at Lake Kivu.
Lake Kivu is a beautiful high-altitude lake which forms the border between the Congo and Rwanda. It's a busy lake, always alive with traders and fishermen in their dugout canoes.
The drives along Lake Kivu are longish, on unmade roads, but they offer the opportunity to see rural life as it has been for centuries, virtually unchanged.
It is a very scenic route and you see people at work, cultivating bananas, cassava, sorghum, beans, rice, potatoes, and even coffee in their steep and tiny fields.
Relax by the banks of Lake Kivu, Rwanda's greatest lake, from the moment you first set eyes on Lake Kivu, it is clear that the most beautiful of Africa's great lakes is a deeply special destination.
A cascade of rich blue colours play across its surface. The terraced escarpments and pretty villages on its banks invite you to explore further and enjoy the wealth of recreational activities on offer.
It is the incredible depth of Lake Kivu that lends it those enticing aquamarine hues. Reaching 480m at its deepest, the glittering lake runs for almost 100km along Rwanda's Congolese border.
Whether you are taking in the stunning views from a boat trip to the buzzing town of Gisenyi in the north, or relaxing on its white sandy shoreline, Lake Kivu rates as a must-see.
Here you can also enjoy lake fishing, canoeing and swimming in those clear blue waters.
If you are planning an unforgettable jungle experience with us, this is the perfect place to kick back and relax.
Lake Kivu is only an hour's drive from the Volcanoes National Park and the Virunga Conservation Area. The perfect retreat before or after the thrill of a gorilla trek.