Luxury gorilla trekking is a very adventurous safari. The level of enjoyment even sparks more when you book luxury gorilla safari in Rwanda, Uganda and Congo.
This is because of the other safari supplements i.e., luxury lodges (Bisate lodge in Rwanda, clouds mountain gorilla lodge in Uganda, Mikeno lodge in Congo), transport means, other facilities as well as other amenities are always present to keep the spark alive.
Luxury gorilla trekking comes with to notch facilities in terms of accommodation, meals, transport and other amenities. The experience is breath-taking and worth every second you spend on it.
Air-conditioned safari land cruisers are equally good and used for such a high-end tour. Don't delay your booking with us and rest be assured of the best luxury gorilla safari in Africa.
Many people will say that Rwanda is easier trekking, but clients should, first of all, appreciate the fact that all treks take place at altitude, so trekking is certainly never a walk in the park! From Rwanda's capital Kigali, it's less than a 3-hour drive to the properties you'll stay in, which basically look over the rain forest – covered volcanoes where the gorillas live. All walks start from the main park headquarters, involving very little driving time.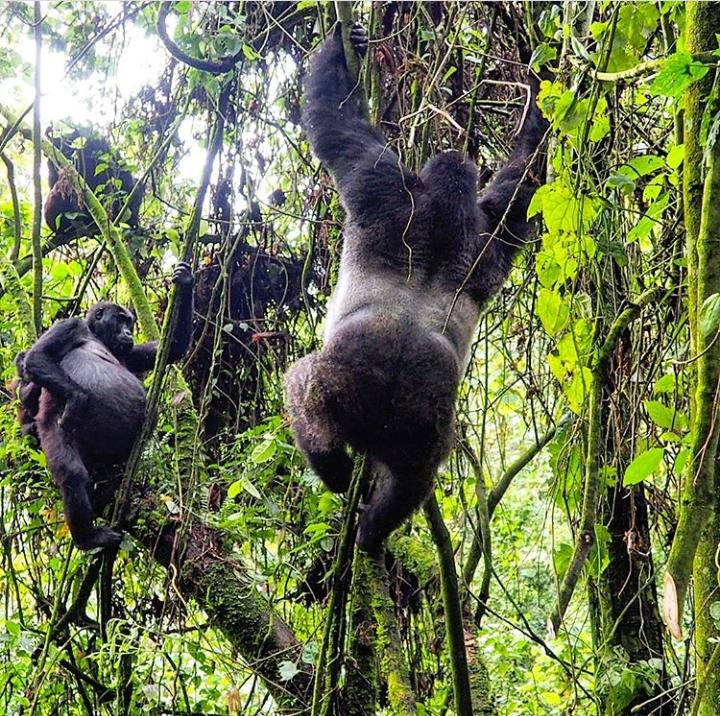 Due to a fantastic marketing campaign over a sustained period of time, Rwanda has attracted significantly more attention than the other locations over the years. The result is higher prices for park fees and overall better quality and ultimately significantly more expensive lodges. Park permits alone are $1,500 per person in Rwanda, versus Uganda's $700 per person, while lodges can cruise into the multi-thousands of dollars per night! The reality is, you're deciding to stay in some of Africa's very best properties by choosing Rwanda.
Volcanoes National Park in Rwanda has an array of luxury lodges that offer the ultimate gorilla trekking experience. With the likes of Wilderness Sabyinyo, Singita, and One & Only resorts owning properties here, standards are set exceptionally high.
There are seven groups that tourists visit with family numbers, varying from six or seven to as high as over thirty individuals. The most famous is the Susa group, was made famous by Dian Fossey; however, treks to see this incredible family can take 5 hours, as they nestle into the upper reaches of Mount Visoke.
It is an incredibly rewarding experience to trek this far and meet the 'Susa'… but by no means an easy task! Unfortunately, we can't actually choose the group you visit, but we can help choose where you stay.
Uganda's gorilla regions are a good distance away from the capital Kampala. A flight is needed, and the gorilla walks set off from five different locations. Access, therefore, is much more difficult than Rwanda as a whole.
Uganda offers gorilla safaris in Bwindi Impenetrable National Park. The trekking permits are $700 and this saving can also be found in the accommodation on offer. For real gorilla enthusiasts in Uganda, you can book a Gorilla Habituation experience allowing you to spend 4 hours in the forest with a gorilla group that the researchers and park rangers are habituating at $1500. This really is the ultimate gorilla experience.